Project name and description
Operative Program of Central Hungary, technological development of micro, small and medium-sized enterprises
KMOP-1.2.1.-09/A/2-2009-0120
Engine purchases and IT developments
Name and contact of the beneficiary:

SYCONS Építőipari Kft.
H-2094 Nagykovácsi, Nagykovácsi út 26-30.
Telephone: +36-1/397-4856
Fax: +36-1/397-5482
Name and contact of the intermediate body:

Magyar Gazdaságfejlesztési Központ Zrt.
H-1539 Budapest, Pf. 684.
Tel: 06-40/200-617
Fax: 06-1/465-8503
http://www.magzrt.hu
http://www.nfu.hu
http://www.nfu.hu/rop_ih
http://www.vati.hu
Description of the engine purchases and IT developments realized within the framework of the PROJECT
ENGINE PURCHASES
1. PERFORATOR type double-walled pilot pipe kit
In pipe jacking projects, this PERFORATOR type double-walled pilot pipe kit is used to install pilot pipes guiding the pipeline up to a distance of 100 m in compact, hard clay or granulated soils. (60 pcs of dia. 114*1000 mm and 20 pcs of dia. 114*2000 mm pilot pipes have been purchased.)
Previously, our company had used a BOHRTEC type pilot pipe kit for pipe jacking, the maximum length of which was 60 m, and we also used a self-developed pilot pipe system, which allowed to reach a length of 100 m, but both of the guiding systems allowed pilot pipe installation only in smooth, compressible soils.
In Hungary, compact sand and gravel, as well as dry clay are rather common. In these soils, these previous systems did not allow pipe jacking.
Using the new, double-walled pilot pipe system, we are able to inject high-pressure (10-50 bars) drilling slurry in the drilling head of the pilot pipes. Thus, excavation of compact sand, gravel and clayey soils are easier, external surface friction of the pilot pipes is lower.
On the whole, this investment allowed us to extend the application domain of our heavy duty pipe jacking equipment by 200-250%.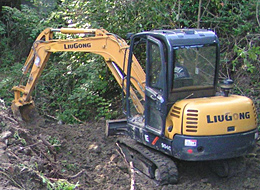 2. LIUGONG CLG 904C type excavator with rubber tracks
Year of production: 2008
Production no.: W09600








3. BOBCAT 442 type excavator with rubber tracks
Year of production: 2008
Production no.: 528611001